Changing Faces Presentation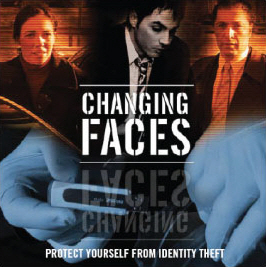 Changing Faces was created by the Alberta government and the Edmonton Police Service to educate Albertans on how to spot and prevent identity theft.
The e-learning presentation includes information consumers can utilize to protect themselves, identity theft statistics and an online quiz. The 18-minute video (below) supports the E-learning presentation documenting an informative look at identity theft through a fact-based drama and teaches viewers how to be on guard and protect themselves.
Changing Faces is a self-contained training presentation aimed at high schools, business and community groups. Presenters do not need to be experts on the subject to effectively deliver the program. The presentation could be used by organizations interested in providing information on identity theft to groups of Albertans; for example, employers who wish to offer lunch and learn sessions or local service groups wanting to hold seminars on identity theft.
To view the Changing Faces DVD choose one of the formats shown below.
Windows Media